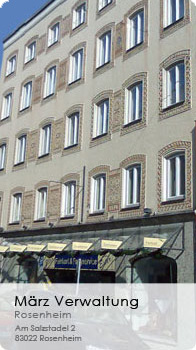 Willkommen - Welcome - Bienvenue
The Andreas März GmbH was founded in 1995 by Andreas März sen., former CEO and fellow partner of the Gebr. März AG. The company is active in the following business areas:
Financing and participation in young innovative companies in local and international markets.

Business consulting in respect to sociocultural changes and current developments.

Financial services within reorganizations.

Development and marketing of innovative projects in developing countries.
Our value proposition is based on the comprehensive experience in analysis and solution of challenging projects.

We focus on new and state-of-the-art movements of the markets, both at national and international level.

Utilizing national and international connections are fundamental for successful networking and business.